Deadball, A Metaphysical Baseball Novel
Available from amazon.com and these fine retailers:
Sports Legends Museum Gift Shop at Camden Yards, Baltimore MD
Babe Ruth Birthplace Museum Gift Shop, Baltimore MD
The Ivy Bookshop The Ivy Bookshop, 6080 Falls Road, Baltimore MD
The Book Escape, 805 Light Street, Baltimore MD
Politics and Prose, 5015 Connecticut Avenue, N.W., Washington, D.C.
Greetings and Readings, Hunt Valley Towne Centre, 118-AA Shawan Road, Hunt Valley MD
Turn the Page Bookstore, 18 North Main Street, Boonsboro MD
Discovery Station, 101 West Washington Street, Hagerstown MD
Sweet Pea Dessert and Gifts, 10 W. Baltimore Street, Greencastle PA
---
Former minor-league baseball player Byron Bennett has a deep and spiritual connection to the game of baseball and its history. He sees things in a way others cannot and believes in things others would not. He thinks the old men working the menial jobs in the diners, dives, and graveyards he frequents are not what they seem. They try to fit in, go unnoticed, but Byron suspects they are not your typical second-career working stiffs.
Part pilgrimage and part road trip, Deadball visits vanished ballparks like Baltimore's Union Park, Pittsburgh's Forbes Field, Cleveland's League Park, Detroit's Tiger Stadium, and Brooklyn's Ebbets Field in Byron's attempt to bring the past back to life. As visions of baseball's golden era appear around him with greater frequency and intensity, he must question everything he believes about life, himself, and the game he loves. Are the flickering images he sees real, or are they all in his head? His friends, his ex-wife, and his former teammates don't believe what he tells them he sees. At times, neither does he.
Deadball will appeal to baseball fans and history buffs, but it also will appeal to anyone who knows what it means to be driven by a passion that others can neither appreciate nor understand.
Paperback: 344 pages
Publisher: Huntington Park Publications, Inc. (November 23, 2011)
Language: English
ISBN-10: 0983668906
ISBN-13: 978-0983668909
Product Dimensions: 8.5 x 5.5 x 0.9 inches
Shipping Weight: 1.1 pounds
---
The Silver Spring-Takoma Thunderbolts 15th Anniversary Yearbook
By Richard O'Connor and David B. Stinson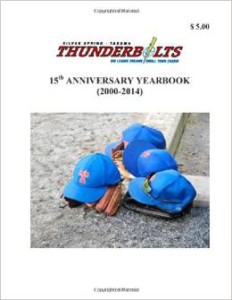 Available from:
amazon.com
The Blair HS Baseball Stadium Concession Stand (during T-Bolts Season)
---
Follow the first 15 seasons of the Silver Spring-Takoma Thunderbolts, a summer wooden bat baseball team playing in the Cal Ripken Collegiate Baseball League.
Huntington Park Publications
June 2014
Softcover
---
United States Court of Federal Claims Handbook and Procedures Manual
Published by the Bar Association of the District of Columbia, the United States Court of Federal Claims Handbook and Procedures Manual, 2nd Edition, is available at:  http://www.badc.org/i4a/pages/index.cfm?pageID=3369
Cited in Wikipedia (en.wikipedia.org/wiki/United_States_Court_of_Federal_Claims) and other Internet cites discussing the Court of Federal Claims, this book looks really good sitting on a bookshelf.  Be sure to get yours from BADC before they are all gone.  Last I heard, they had less than 20 left.